Beyond the Book
Beyond the Book
Engaging developing readers and their families through the joy of reading.

About Beyond the Book | Sign Up for Beyond the Book | Fall 2022: The Day You Begin | Supporting Your Developing Reader
About Beyond the Book
Beyond the Book is a literacy program centered on developing readers, children in kindergarten through third grade. By highlighting vibrant stories that represent the wonders of children's literature, Beyond the Book aims to inspire children and families to discover the many resources the library offers. DC Public Library is uniquely positioned in young readers' communities to spark their curiosity and encourage reading for fun as well as show caregivers how they are empowered to help their child grow into a confident reader. When children find the joy in reading in a supportive environment, they are better able to build the reading and learning skills they need to thrive. 

This seasonal program builds on the Books from Birth program, an initiative with Imagination Library that mails a new book a month to children ages 0-5 in D.C. Beyond the Book, generously funded by the DC Public Library Foundation, is a city-wide reading and learning club for developing readers, children in kindergarten through third grade, that engages Books from Birth graduates as well as children across D.C. around a carefully selected title along with fun and educational learning activities that will deepen their understanding and enjoyment of the book as well as build their reading skills. 
Join the Beyond the Book Club!
Children in kindergarten through third grade across the District are invited to sign up for Beyond the Book! To sign up for Beyond the Book, visit your
neighborhood library
.
You can sign up at your local neighborhood branch or fill out the link below. Once you sign up you can stop by your neighborhood library to pick up your membership card. 
Your membership includes:  
A Beyond the Book Club Membership Card
A Quarterly Newsletter with Tips and Tricks for Developing Readers
A Free Copy of the Featured Book and/or Activity Kit Related to the Season's Books (While supplies last)
Exclusive invites to author talks and other fun family events
BONUS: Does your family have a library card? If not, caregivers can sign up for a DC Public Library card when their child signs up for Beyond the Book! Click here to learn what you should bring to sign up for a Library card.

Fall 2022 | The Day You Begin
About This Season's Book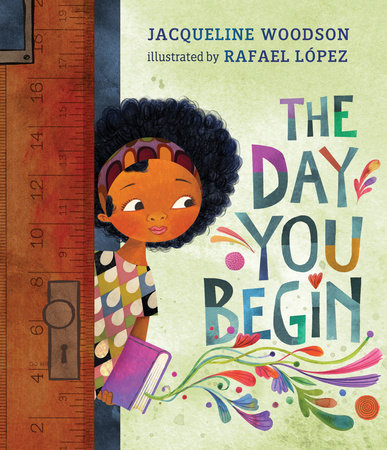 There are many reasons to feel different. Maybe it's how you look or talk, or where you're from; maybe it's what you eat, or something just as random. It's not easy to take those first steps into a place where nobody really knows you yet, but somehow you do it.

Jacqueline Woodson's lyrical text and Rafael López's dazzling art reminds us that we all feel like outsiders sometimes-and how brave it is that we go forth anyway. And that sometimes, when we reach out and begin to share our stories, others will be happy to meet us halfway.

Check out this title from your neighborhood library.

The Day You Begin Activity Packet
Go Beyond the Book to build on your experience of reading
The Day You Begin
with fun learning activities!
 Jacqueline Woodson's The Day You Begin is a delightful read that explores the complex concept of self-esteem. We at DC Public Library hope that you can use this story to help your child manage difficult experiences and teach them about being brave. Use this activity book to engage your child in activities that will make them feel celebrated and proud of the things that make them who they are. 
Sign up for Beyond the Book at your neighborhood library to receive your very own activity book!

If you complete the activity packet, please send a picture of your favorite activity to readingprograms@dc.gov or tag us on social media, using the hashtag #BeyondTheBookDC!

Read More Books Like The Day You Begin
Did your family love reading The Day Your Begin? There are many other titles that you can find at your neighborhood library that help your child build their self-esteem and emotional resilience in the classroom and in their daily lives! See a few of our favorites below:

Supporting Your Developing Reader
What Is A Developing Reader?
A Developing Reader is someone that is learning how to use foundational reading skills and their background knowledge to understand text. A developing reader is interested in books but can't yet read them independently or may be able to read some words but require support to convey meaning from print. Developing readers tend to be between the ages of children 5-8 that are starting their educational journey.
Developing Readers enjoy a variety of books, both fiction and nonfiction. As they gain more foundational reading skills such as the mastery of phonics and word comprehension they increasingly read books with more complex text and vocabulary words. Most excitingly, is that developing readers begin to discover that reading happens everywhere. 
How do children learn to read?
There are five key important categories that are important to be successful readers. These categories are not listed in a particular order.
Fluency
Fluent readers have mastered the multitasking skills of a reader's ability to decode words and comprehend them at the same time. Fluent readers read smoothly and with expression. Read aloud to your child and listen to them read aloud. Discuss with them what a reader sounds like. Reading familiar text will help your child build their confidence as a reader and their fluency skills.
Reading Motivation
Make reading personal for your child. Children should love the things that they are reading. The more they enjoy the topic of books, the more they will want to read. Keep your child's interest at the forefront of the reading process. Allow them to explore and pick books that appeal to their interests.
Comprehension
Comprehension is all about your child's ability to understand what they are reading. Comprehension is the ability for the child to make connections with the story to their own life, make predictions, explain the story, and so much more. A developing reader's comprehension skills can be strengthened by making observations about illustrations and discussions around the story's plot. Repetition also makes a big difference, so make sure you reread stories and make observations about the illustrations. Have a conversation with your child about what they are reading.
Decoding
Words are made of letters and those letters make sounds. Combined sounds make words that possess meaning. Decoding is what happens when readers put sounds together to figure out words. Practice sounding out words with your child and practicing common sound patterns they often hear. As their decoding skills grow, they will learn more about how to sound out larger words and identify more complex sound patterns such as vowel sounds and consonant blends.
Background Knowledge
This is all about what a child knows before they open the book. What is in their immediate environment that gives them access to the information presented in the text? You can build upon your child's knowledge by teaching them new vocabulary words and introducing them to new experiences.
Developing Reader Tips
Developing readers have to do a lot of work as readers. This is the beginning of their journey where they will start to read not only for enjoyment but also for performance. It is important to keep it fun while encouraging them to learn new reading skills.
Start with what the child knows and likes. Read about things that are of interest or bring joy, like sports, the arts and other activities. Think about all of the things you've done to help your child to enjoy the practice of reading. Keep doing those things and elevate your practice by supporting their book selections, and discussing how reading relates to life activities and experiences.  
Pause when you are reading together and ask them questions about the story or think your thoughts out loud so they can see how you make meaning from the stories you read.
If your child knows the alphabet song, start to sing the song with the letter sounds versus the letter names.
Expand the alphabet song by finding names of things they love that match the sound or sound pattern. This can be done as you're walking around your neighborhood.
When you are at the Library, look for Easy readers, Read Alouds, Picture Books and Books of Poetry. These are great kinds of books for your developing reader. The Library's Books for Kids page is a great place to find titles for readers of all levels!
Return to the top of the page.