Oh, What a Slaughter by Larry McMurtry
Oh, What a Slaughter by Larry McMurtry
History Book Club selection for July 9 meeting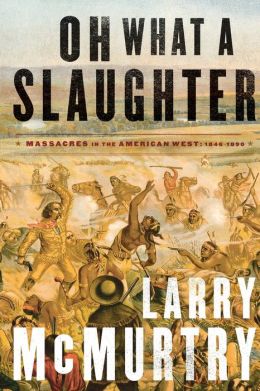 If you are interested in learning further details of our country's history, you may wish to read the History Book Club's selection for July: 
Oh, What a Slaughter: Massacres in the American West: 1846-1890
by Larry McMurtry.  It is a brilliant and searing history of the bloody massacres that marked the settling of the American West in the 19th century.
McMurtry discusses six massacres: Sacramento River, Mountain Meadows, Sand Creek, Marias River, Camp Grant, and Wounded Knee, among others.  The author's descriptions of these events recall their full horror, and the deep, constant apprehension and dread endured by both pioneers and Native Americans.
Come discuss the book with the History Book Club at 1 p.m. on Tuesday, July 9. Copies of the book are available at the Information Desk. We can order a Large Print copy for you, too, if you like.
If you would like to plan ahead for the Aug. 13 meeting of the History Book Club, the selection we will be reading for that session is
Genghis Khan and the Making of the Modern World
by Jack Weatherford.